The sun, heat and fair weather on Ibiza finally seem ready to take of their coats and stay awhile. Sultry springtime temperatures have got us all dreaming of a holiday, or at the very least a stroll down the street, a picnic outdoors, or an afternoon getting sun-kissed on one of our favourite island paradise's heavenly stretches of sand. Intrepid souls have already begun diving in to that turquoise water that make Ibiza and Formentera famous, so we've decided to give you the skinny on where, how and when you can follow suit.
In today's post we'll give you a few tips about the best options for spending a day at the beach, resting up and enjoying the island at its best (pre-season!).
Here it is. Our list of the best little spots to find a massive chunk of paradise.
Platges de Comte: the coastline adjacent to Sant Josep de sa Talaia is dotted with fetching (and wildly popular) coves with all manner of sunset viewpoints. The turquoise water will make a believer out of anybody.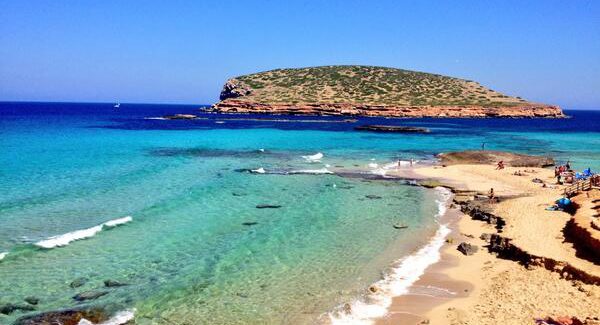 Cala Saladeta: this San Antonio gem is among the highest ranked, not least for its golden sands and crystal blue water. This place is not only cosy, but a little-known access road means you'll have plenty of privacy...this beach is one of Ibiza's least crowded. Spend a day, a lifetime, whatever.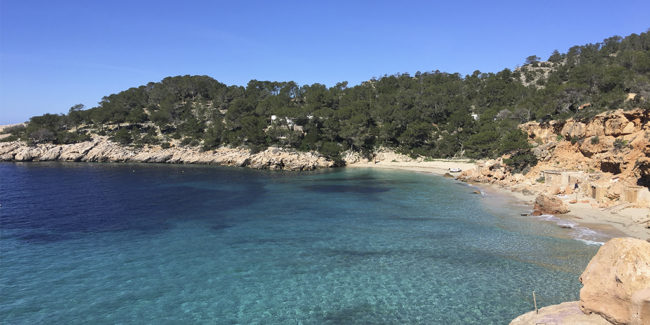 Cala D'hort: one of the prettiest coves on the western coastline, though in terms of water it's comparable with what you'll get elsewhere. One thing that sets it apart from the pack? An altogether unique sea view: the outsized promontories Es Vedrà and Es Vedranell are fantastically well-known and the origin of more than a few local legends, plus they make this particular cove magical. The two restaurants here—both heavy-hitters on the local gastronomy circuit—have got everything fresh fish and rice connoisseurs could possibly dream of.
Es Canaret: on a cliffy stretch of northern Ibiza far from the island's trendy beach clubs, this petite cove and its crystalline water aren't exactly easy to find. But let's just say the bigger the investment the juicier the pay-off. An option for real go-getters is to come by kayak from Cala Xarraca. Beginners will find the difficulty level completely manageable and the experience altogether worthwhile.
Es Portitxol: located in San Miguel, this cove has not only got marvellous vistas, it's got basically everything else going for it too. It's tranquil and often overlooked, it's got crystal clear water and it's surrounded by mountains, nature and fishermen's dry docks. There's even a bit, as you're approaching the cove, that must be done on foot. And did we mention the beach is unattended? Just like a desert island!
Cala Xarraca: set in San Juan, at once the most traditional and hippy-friendly town on Ibiza, this cove is the perfect place to witness a beautiful contrast: prairies of posidonia seagrass paired off vast clearings in the water (the latter tends to be a hangout spot for local divers). In terms of tranquility, this cove is one of our favourites.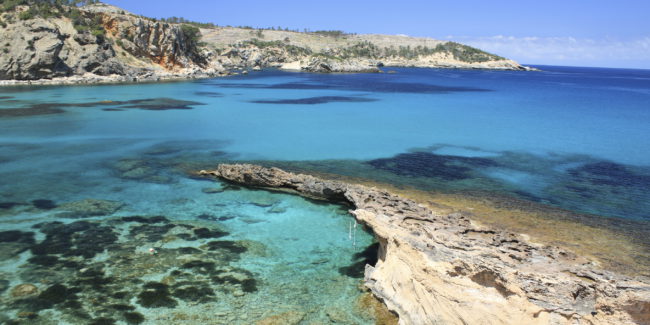 There are two sides of the Ibiza coin. One has got stunningly beautiful seasides and radiant blues, the other stands out for its countryside and rich green tones. Add to the mix luxury agri-tourism accommodation in the middle of the woods and the holiday is starting to float our boat. Did you know? Our charming Ibiza inn is also ranked among the island's best boutique hotels. Some have classed us among the most sumptuous in the Balearics and an ideal place for intimate, romantic weddings.
At Can Lluc, we give you only the best. Come check it out, and when you get here, dive right in!