One virtue that shines bright in every Ibiza native, aside from a deep devotion to friends, is an innate open-mindedness and keen sense of hospitality. This could explain many an enterprising Ibizan's decision to convert marvellous family homes into hotels, boutiques or countryside rental homes. Dwellings which in years past housed current owners' forbears now serve to teach visitors about the true essence of Ibiza. They are proof that the island is still today a peaceful refuge. What's more, the confluence of fine dining, relaxation and tranquility on Ibiza gives way to a world of entertainment that is unrivalled.
Among the most enchanting corners of this realm is the country hotel Can Lluc. The property is tucked in the heart of Ibiza in a quiet valley dotted with thousand-year-old pine, carob, fig and olive trees. More than 2,000 grape vines sit alongside scores of wild fruit trees and every inch of the property exudes the distinctly Mediterranean pairing of tradition and modernity. Located 2 kilometres outside of San Rafael, the geographical centre of Ibiza, Can Lluc is 9.8K from Ibiza town and 10K from San Antonio.
The hotel's 20 rooms include 7 doubles, 5 superiors and 8 villas, 6 of which possess an individual garden. Dutifully maintaining years of tradition and family treasure, married pair Lucas Prats and Tina Soriano commissioned a remodel of the estate in 2000, an effort masterminded by architect José Torres. The country ranch was restyled as a comfortable boutique hotel, surrounded by nature and seasoned with a touch of relaxed luxury. The original stone walls, wooden roofs and exuberant gardens of centuries' old olive and carob trees provide an equally perfect backdrop for the fragrant jasmine and lady of the night plants that abound, or for the radiance of a sunset. Or the sound of a rooster's daybreak crow. Or the light of not-too-distant stars shining above…
Taking an active role in the hotel's decoration, the two owners worked alongside José María Velasco, a formidable player in the restoration in a large part of Ibiza's cultural capital. Forgoing outside decoration, they opted to restore and make use of many of the original objects and tools left at the home.
In 2009, responding to clients' appeals for more space and increasingly modern amenities, Can Lluc's owners set out on a remodel of the hotel that would include 6 new double rooms, each a vision of minimalism. The resulting villas were devised to allow guests to enjoy the ambient nature and a maximum degree of privacy. An answer to growing demand for weddings and events, the hotel's most recent expansion took place in 2013 and saw the creation of the Garden & Sunset halls.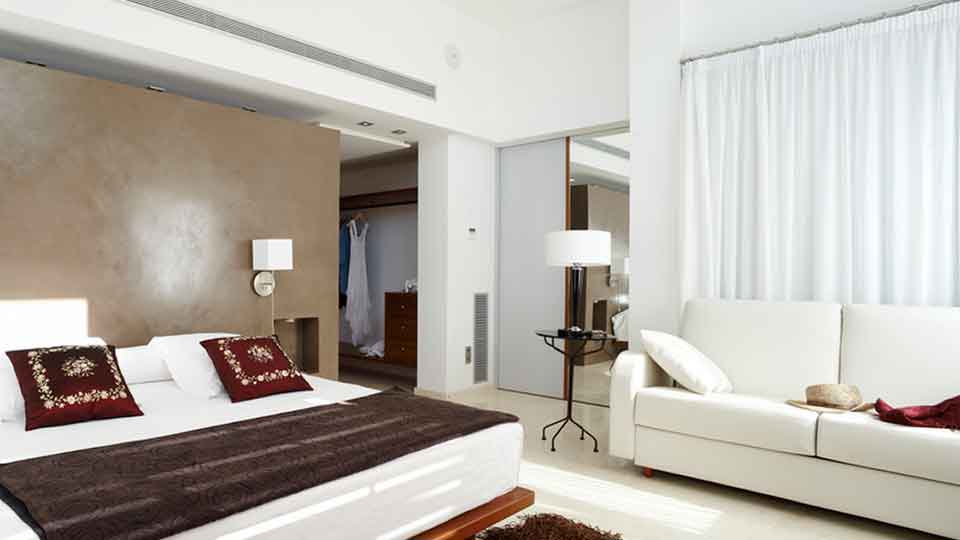 Open year round, the hotel routinely welcomes tourists from Germany, England, Holland, Switzerland, mainland Spain, Belgium, Austria and France. Even residents of Ibiza and Formentera are known to come in search of a new take on their familiar paradise. In addition to adhering to the green standards of ISO 14001, a certification delivered by AENOR, Can Lluc has received honours such as the Govern Balear's Q Calidad award and accreditation as a hotel suited for golf, cycling and hiking. Among other past distinctions, Can Lluc was also finalist in Conde Nast Johansen's "Most Charming Hotel 2009" contest, was picked by the readership of Traveler as one of the world's 125 best hotels and named one of the 10 best hotels in Spain as part of Marie Claire's "Prix Gourmet" awards.
Photos: https://www.flickr.com/photos/canlluc/sets/
Brochures: https://www.canlluc.com/themes/media/se1-5762-tu-hotel-rural-en-ibiza.pdf
Weddings: https://www.canlluc.com/themes/media/se1-6317-tu-hotel-rural-en-ibiza.pdf
Video: https://goo.gl/i5ZeSR