Can Lluc Boutique Country Hotel & Villas's 20 rooms are just right for wintertime group getaways, incentive travel and retreats
 IBIZA, 14 November (IMAM COMUNICACIÓN)
You might not think it, what with summer freshly behind us, but a new Ibiza is taking shape, and it promises to pack a hefty punch on your next getaway. Flowers and verdure have spread across the fields and local beaches have, in turn, got a little more spacious, becoming welcome sites for picnic blankets and fresh-air activities. Seamlessly assimilating this new island lifestyle, Can Lluc Boutique Country Hotel & Villas are perfectly suited for group trips, spiritual retreats, incentives and organised travel. The property comprises 20 rooms: 7 double suites, 5 superior rooms and, for guests seeking a unique, personalised experience, 8 villas with private garden.
Ibiza is at its most authentic right now. Sports, gastronomy, hikes…these are the elements that drive the island's more traditional side. Off-season temperatures hover around 20º C, so if you're in the market for a getaway, the white isle is a dream candidate. The season comes equipped with an endless assortment of ways to get your batteries charged. Can Lluc is a destination in group travel for hikers, fitness heads and chilled-out yoga courses, offering peaceful surroundings and a central location (we're just a ten minute drive from every municipality on the island).
Aside from a gym, wellness centre and vast gardens, our country hotel features a spacious hall suited for all manner of activities. Want a different way to discover the island? Our group accommodation options mean you can tailor your holidays, sparing no luxury and maintaining complete privacy. All you'll need to decide is who to invite. Trust us with your important events and romantic weddings and count on a full hotel facility.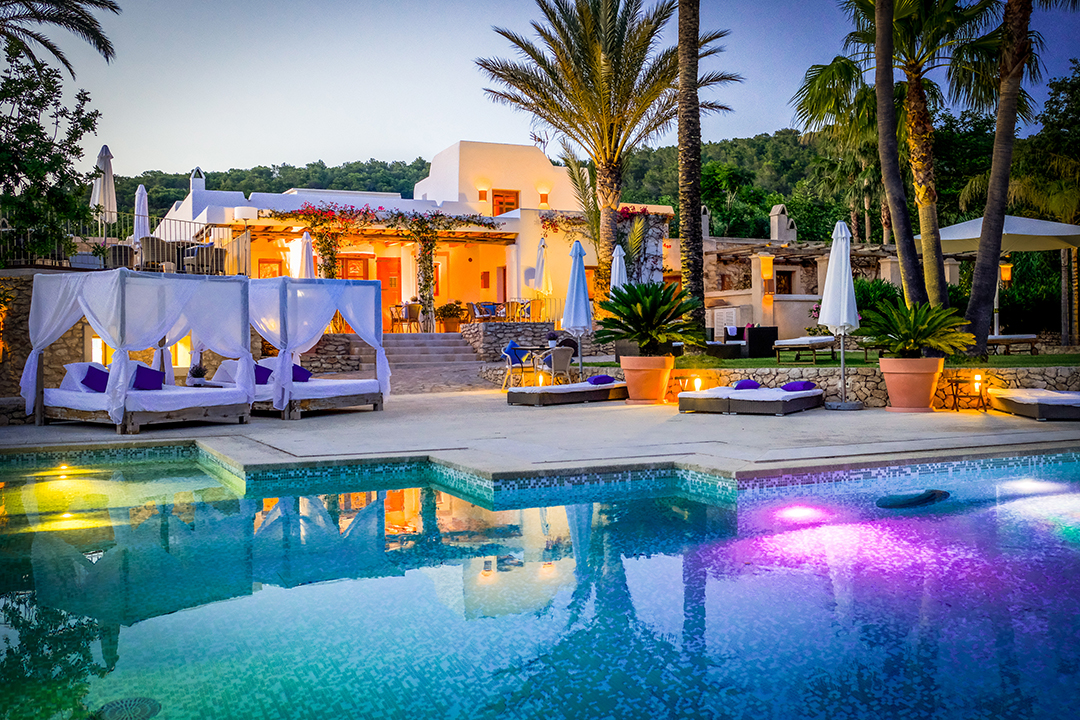 That isn't all. Can Lluc lets you personalise your sojourn with an long list of winter package offers: guided scooter tours, chartered boat trips, winery visits and tasting sessions, hot-air balloon rides and so much more. If what you want is an unforgettable adventure, the sky really is the limit. The boutique hotel is located in the heart of Ibiza in the Sant Rafel valley, lined with fruit groves and trails for both hikers and cyclists. The gardens, frequent sites of yoga and meditation sessions, breathe a tranquility that stirs visitors to disconnect.
Autumn on Ibiza is a new awakening. Light years from the endless nights, music and buzzing nightlife that prevail in summertime, this right here is the island at its most authentic. Every inch of the larger Pityusic Island is permeated with culture, gastronomy and tranquility, all the better to welcome visitors and show them the island's more traditional side.
Ibiza's connected in winter
 With direct flights on the rise to European cities like Geneva, Milan and Amsterdam, this winter season Ibiza is more connected than ever. Flights to the white isle have doubled from London, and routes to Paris and Eindhoven operate year round, proof positive that Ibiza is an attractive destination 365 days a year.
Ibiza continues its ascent at the national level, too, with direct connections with Barcelona, Madrid, Valencia and Palma now joined by service to Malaga, Sevilla and Bilbao.
The low season will see 8,500 flights with a total capacity in excess of one million, all just another sign that Ibiza's magic still goes strong even after summer ends.