Can Lluc  is a familiar hotel located in the heart of the island.
In addition to the 25 rooms, many of them with capacity for the whole family, it has a restaurant perfect for our guests, as it offers menus suitable for everyone and great time flexibility.
One of the outstanding features of the place is that it is completely surrounded by nature and Ibicencan essence.
The perfect location of the agritourism, in the heart of Ibiza, allows visitors to tour the island and discover places in a short time.
That is why in this post we want to share which are the best beaches to go with the family and which families staying at Can Lluc agrotourism like the most.
Cala Boix
It is a beautiful cove located in San Carlos very particular for its black sand and clear waters surrounded by pine trees. Ideal to go with children, it has free parking, and two restaurants offering typical Ibizan cuisine.
It is a wide cove and has several amenities such as hammocks, umbrellas, lifeguards and a beach bar facing the sea.
From Can Lluc: 28km (36 min).
Playa Es Figueral 
Just 4 km from San Carlos two separate contiguous beaches form Es Figueral. It has a great family atmosphere with many services, such as hammocks, umbrellas, water sports and several beach bars. Some of these activities are kayaking and paddle surfing, guided by  Kayak Ibiza instructors.
The surroundings of this beach are picturesque, and can be reached by kayak or paddle surf to beautiful places like s'Illot de s'or, the Canal den Martí, es Pou des Lleó, even the island of Tagomago for the more sporty.
From Can Lluc: 26Km (34 min).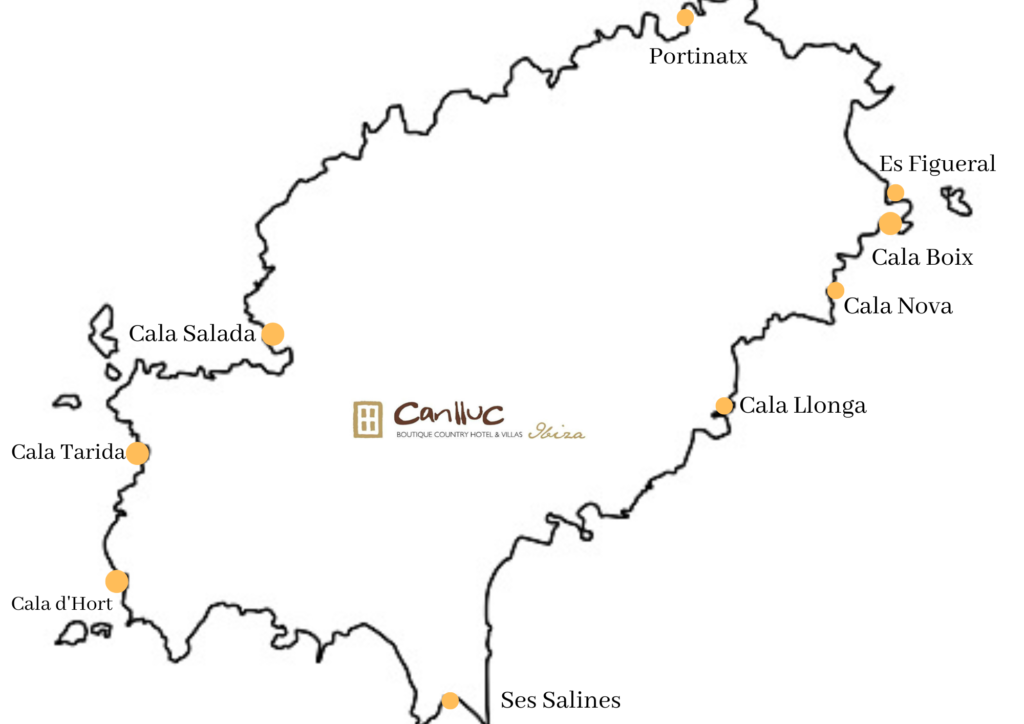 Cala Llonga 
A few kilometers from Santa Eulalia del Río and the Roca Llisa Golf Club, Cala Llonga is perfect for families traveling with children, as it offers services and a totally safe bathing area for the little ones. 
Its seabed is shallow so it is also perfect for the elderly or people with reduced mobility. The beach has restaurants, wooden walkway, public bathrooms, shaded areas…
From Can Lluc: 17,5km (24min).
Cala Tarida
Cala Tarida is in San Jose, west of the island. It has a beautiful landscape formed by sand that contrasts with the rocks and islets, the waters are calm and crystal clear, and it is always sheltered from the wind. Sports are often practiced and there are a lot of services for families and restaurants well known by the locals as S'Espartar and Ses Eufàbies.
In the surroundings of Cala Tarida there is a small cove of fishermen's huts very typical of the Ibicencan coast.
From Can Lluc: 17,9Km (26 min).
Ses Salines 
This beach is one of the most famous of the island. Surrounded by dunes, sapines and pine trees, it is located 9km from Ibiza town. It is located in the Natural Park of Ses Salines d'Eivissa (declared a World Heritage Site by UNESCO in 2001).
It can be reached by car, bus, motorcycle or even bicycle, ideal to go on a route with the children and make a stop for a dip. The water is crystal clear and not very covering and the sands are white and for lovers of walks by the sea, there is a route that leads to the tower of Ses Portes, with spectacular views of Formentera and the surrounding islets.
The beach offers different atmospheres in each of its beach bars: Beso Beach, Malibu, Jockey Club and Sa Trinxa.
Sa Trinxa is located in front of a rocky area with a walkway as a trampoline, very fun for the little ones.
From Can Lluc: 18,6km (27min).
Cala Nova
Just 6km from Santa Eulalia we find Cala Nova, located next to Es Canar.  It is an attractive beach with turquoise waters. As many other beaches of Santa Eulalia it is necessary to go deep to cover, reason why it is ideal to go with children. They have services of hammocks and parasols, rent of pedal boats, beach bars and four restaurants. 
The chiringuitos offer local food, some of these are Aiyanna and Atzaró beach that are of the most luxurious and the chiringuito Cala Nova.
From Can Lluc: 8,9km (15min).
Playa de Portinatx 
It is located in the north of the island in a location known to be focused on serving families. There are many possibilities such as sunbathing, water sports, swimming and snorkeling. In addition, there is a very nice and easy 10 minutes walk from the beach of s' Arenal Gros to s' Arenal Petit that children can easily do.
In the north of Portinatx is the lighthouse of Punta d'Es Moscarter, one of the tallest and most solid lighthouses of the Balearic Islands thanks to its 52 meters high. It could be said that it has become one of the most special lighthouses of the Pitïusas Islands due to its aesthetic beauty and its geographical position.
From Can Lluc: 24,4km (36min).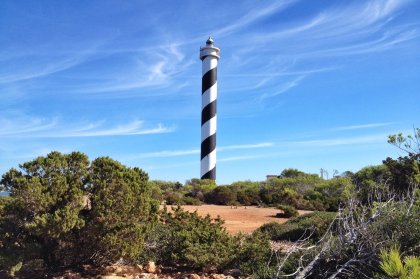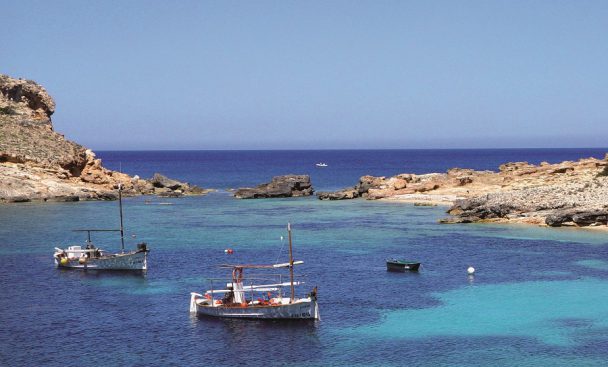 Cala d'Hort 
A 10-minute drive from San José, Cala d'Hort is a small and charming beach, very popular for its wonderful views of the islet of Es Vedrá and its spectacular sunsets.
It is located on a slope where the main access road ends. It is a non-smoking beach, with various services such as sunbeds, umbrellas, restaurants, boutique, lifeguards, disabled access.
Some of these restaurants are Es boldador, El Carmen and the Cala D'Hort beach bar, which offer Mediterranean and local food and the opportunity to eat with your feet in the sand.
From Can Lluc: 27,2km (36min).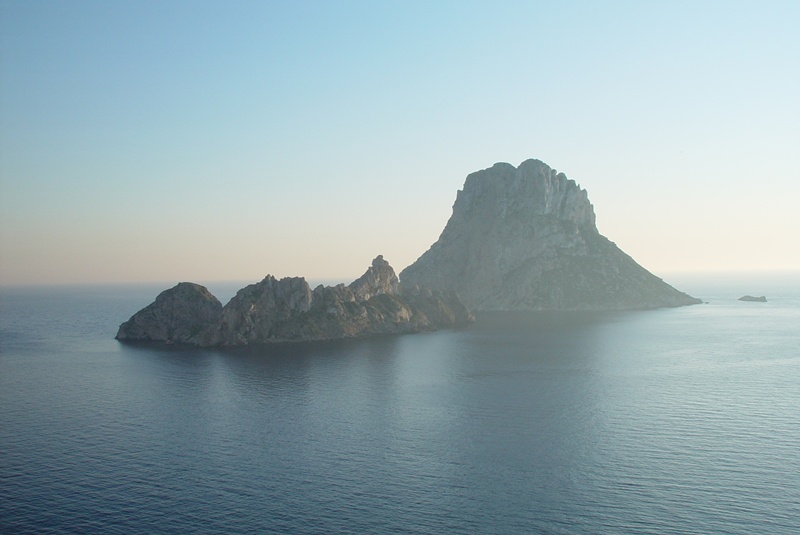 Cala Salada  
Located in San Antonio, it is surrounded by hills with pine trees. Its sands are white and the waters are among the most crystalline of the island. Along its coast there are natural pools and small sandy coves very pleasant for swimming.
It can be reached by bus, car or there is even a regular boat service from San Antonio. The entrance of cars is restricted until the parking lot is full, although there is a regular bus service from San Antonio.
Cala Saladeta, in its surroundings, is a small cove with a lot of charm, which can be reached by walking or swimming. The family restaurant Cala Salada offers a menu based on fresh fish and rice dishes typical of the area.
From Can Lluc: 12km (19 min).
Cala San Vicente
Located in the north of the island. The area of San Vicente is the ideal tourist nucleus to spend a family vacation.
For what the beach is also it. It has curved form and fine golden sand, the waters are crystalline and behind there is a promenade. It is a safe beach, very wide and beautiful.
The promenade is full of palm trees and cafes a few meters from the beach and also has some bars and restaurants for all budgets.